Those nasty split ends!

Sunday, September 18, 2011



hello friends! hows everyone doing? thank you so much for reading my previous update. it really encourages me to write more often when people reads my post.


Anyweys, today ill be talking about

SPLIT ENDS

and on how they shows up to the strands of your hair. actually split ends are unavoidable but still there are ways to prevent them and keep it less. but

remember,

there is no way to REPAIR split ends. if the ends are damaged, there is no oil or whatever it is to repair the split.


One of the quickest way to get rid of your split ends if to cut them completely off. that is why using conditioner is advisable. right now i have minimal split ends because i have removed using hair dryer/hair iron from my hair routine. remember "heat" drys out your hair, so if your planing to use hairdryer/ hair straightener make sure to put hair serum at your hair right after.



Take Note!
-DULL scissors will only cause more split ends!
-one good example of a hair serum is

VITRESS HAIR CUTICLE COAT.


-STRICTLY apply the hair serum at the tip of your hair ONLY.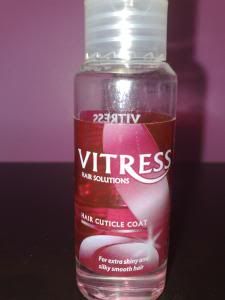 heres a 2d illustration on how your split ends may look like. oh and i circled the ones which may look similar to mine. (i found this photo at google, so credits whoever owns this photo)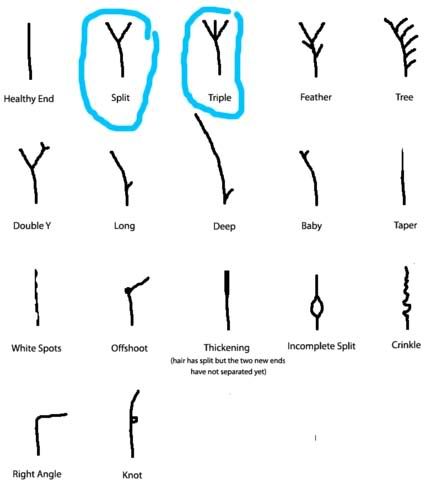 now to

PREVENT

these split ends from appearing, im sharing out

MY PERSONAL TIPS

below but ladies, i cant guarantee the effectiveness whether it may work on you or not coz not everyone has the same hair type as mine

i apologize, but ill continue to share thou.



1.Hot Oil

- yes, your hair needs it, try to hot oil your hair at least once or twice a month (with heat and plastic cap) to provide each strand with nourishment and moisture they need.



2.Good Conditioner

- never forget to condition your hair ever after shampooing, buy a good quality conditioner if you want good quality results. conditioner really helps i tell you.♥



3.Trim those ends

- this is tricky but be careful on trimming your hair, trim those ends to prevent splits from traveling up the shaft and stopping future splits before they start.



4.Avoid Heat

- you should at least use less or avoid applying too much heat on you hair. Remember that heat (especially direct heat like hair straighteners, curling irons, blow dryers will remove moisture from the hair strands which can cause splitting.



5.less combing when wet

- like what i said from my previous post, hair is at its weakest point when its wet. use big combs not brush.




TAKE NOTE!


-When using hair iron/curling iron to your hair make sure to apply heat protection or apply a hair serum right after.





so thats it! i hope this helps and if you have any questions, feel free to leave your message on the comment section and ill drop by your blog and post your answer
see you on my next post!!
by the way, i bought this flower this morning coz i think it looks nice on our dinner table ♥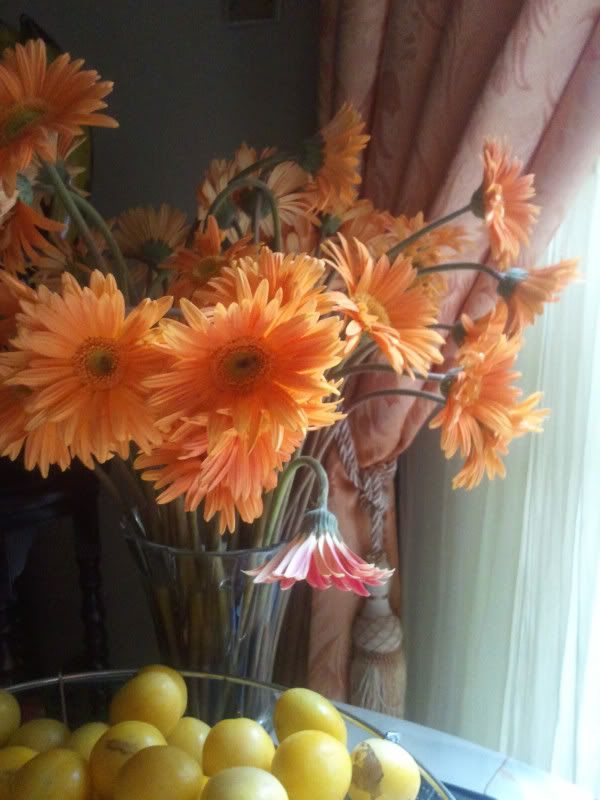 Labels: blog, hair, split ends, stella marie, tomoenishi
Sunday, September 18, 2011
Blog Lovin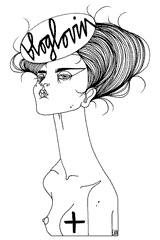 MY OTHER ACCOUNTS


Facebook Twitter Formspring Youtube


Tagbox


◙ Don't comment posts here
◙ Don't forget to include ur URL
◙ I accept linkex here
◙ Be nice

ShoutMix chat widget



Affiliates







Recent Post


◙ How to have healthy hair
◙ must come to and END!
◙ Statement rings
◙ Hassle every day
◙ Awesome Android Phone Samsung Galaxy S
◙ birthday and mother's day collab
◙ am i being a hypocrite?
◙ Chicken and Buko Halo
◙ Recent purchas of contact lens
◙ Offering of remorse



My Archives


◙ January 2010
◙ February 2010
◙ May 2010
◙ June 2010
◙ July 2010
◙ August 2010
◙ September 2010
◙ March 2011
◙ April 2011
◙ May 2011
◙ July 2011
◙ September 2011
◙ October 2011
◙ November 2011
◙ January 2012



Follow My Blog